APPLICATION of zeltiq Coolsculpting Therapy Slimming Machine
1. Fat reduce, loss weight, Body Slimming
2. Soften hard fat tissue, break up lipocyte
3. Strengthen and tighten skin, Body Shaping
4. Freeze fat , cellulite removal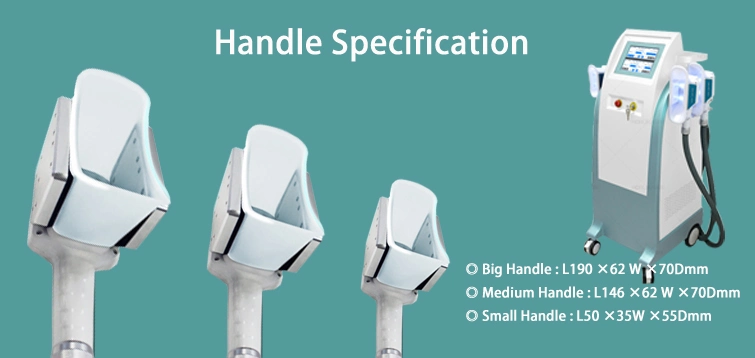 ADVANTAGES of zeltiq Coolsculpting Therapy Slimming Machine
1.Applicators, two handle size is optional:
Big Handle: L192 X W65 X D70mm
Middle Handle: L146 X W62 X D70mm
Materials of all handles is Medical Silicone, the arc shape design, perfect fit treatment area
2. Four Air Pumps
Four air pumps support four applicators working synchronously,
With prefect stability, keep 50% vacuum to do perfect and comfortable treatment
3.Four Applicators Working synchronously
Four applicators can work simultaneously.
So you can treat the entire abdomen in one treatment, greatly save you and your clients' time.
4. High Quality Material & OEM service
Noble Laser machine comes with metal outer cases, coated with high quality paint.
Your logo could be posted on equipment case, the out case color is also be customizable according to pantone.

5. Touch Screen on Each Applicator
Flexible Settings ,You can control the pressure, temperature at any time.
3.5 inch color touch screen synchronous control with 8.4 inch touch screen
Precise cooling temperature control , error less than 0.5 ºC
6.Flexible Settings
You can control the pressure, temperature at any time.
3.5 inch color touch screen synchronous control with 8.4 inch touch screen
7. Strong Semiconductor Cooling System
Semiconductor cooling also ba called as peltier module, the peltiers be divided
TEC 1~6, most of manufacturer adopt TEC1, Noble Laser adopt TEC2, with strong cooling and long lifetime. - Every handle with 4 peltier modules
8. OEM Friendly
Add you logo on screen on machine case.
Add you logo on the screen
Design the machine color
Specification of zeltiq Coolsculpting Therapy Slimming Machine
| | |
| --- | --- |
| Model | 8.4 /10.4 inch color touch screen |
| Power | ≤ 500w |
| Vacuum | 650mmHg |
| Interface control mode | Respectively startup or shutdown negative pressure and coolsculptingsystem, Sounds and indicator flash when shutdown coolsculpting |
| Safty control | Real-time online check for coolsculptingtempreture and vacuum |
| Output degree | -10° C~ 15° C |
| Cooling device output pressure | 0-100Kpa |
| Operating voltage | 110V/220V ± 10%, 50/60Hz, 12A |
Q&A
Q: When will I see results?
A: You may start to see changes as quickly as three weeks after your treatment, and will experience the most dramatic results after two months. But your body will still flush out fat cells and continues doing so for up to four to six months after treatment.
Q: Does this treatment should use anaesthesia?
A: no, it doesn't use anaesthesia, you only use the anti-freezing membrane.
Q: Your machine have two or four handles in one machine, does it reduce the power?
A: no, it doesn't reduce the power. The machine no matter with 2 handles or with 4 handles, we all install the system and the vacuum pump with the equal quantity, 2 handles, 2 systems, 2 vacuum pumps; 4 handles, 4 systems, 4 vacuum pumps. That is to say, our machine with 4 handles have the equal treatment effect comparing with the machine have one handle.
Q: There will be what happens after treatment?
A: Treatment of redness, there may be bruising, but will subside in 1~2 weeks
The Coolsculptinglipolysis procedure is completely non-invasive, which allows immediate return to normal activities such as work or exercise. Redness may appear in the treated area, and may last from a few minutes to a few hours. Some localized bruising or swelling may occur, which clears within a few weeks. Many patients experience a temporary dulling of sensation in the treated area, lasting one to eight weeks.
Why choose our coolsculptinglipolysis slimming machine:
Effective-
we own our own professional R&D team and supporting facilities , can track distributors' idea and make it real in a very short time, including the hardware, software and products appearance etc.
4 working days leading time guarantee customers got the machine soon
Rigorous-
Noble Laser have more than 25 years of experience in the medical and beauty devices
All of our engineers have more than 21 years experience ,we can offer Strong technical support and track your requirements very well.
All of our machines got medical CE approved, all the production process is strictly according to ISO13485.
Welcome To Visit Beijing Noble Laser Technology Co., Ltd!
Beijing Noble Laser is a professional manufacturer specialized in designing, producing and selling IPL skin rejuvenation, Elight,IPL SHR, RF face lift, diode Laser hair removal, vascular removal, wrinkle removal, dental diode laser teeth whitening, coolsculpting cool therapy slimming, Nd yag laser tattoo removal, Vaccum slimming and Water oxygen beauty equipments.