Shockwave Therapy Machine Physiotherapy and Rehab Shock Wave Equipment Medical Ce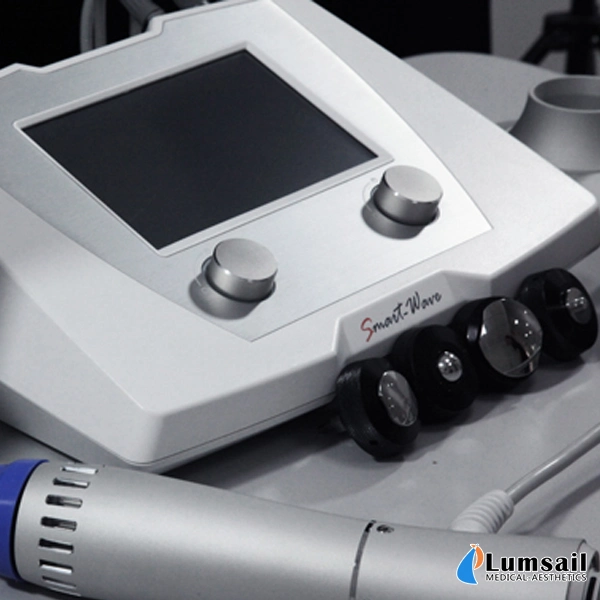 Ideal device for shock wave therapy :
-Compact, the
Smart wave BS-SWT2X
does not require a compressor thanks to its electromagnetic system. The electromagnetic system is small, light and mobile and requires little maintenance. The projectile located in the ergonomic handle is electromagnetically activated.
-Mobile, the
Smartwave BS-SWT2X
comes in an aluminum case with all the necessary accessories:
5
different treatment heads, foot control by switch ... Easy to carry, it allows you to have everything at your fingertips for a complete treatment .
-Ergonomically shaped handle made of high quality aluminum. By working with its own weight, the therapist can exert less pressure, which increases the intrinsic and vibratory damping, thus protecting the therapist and allowing a perfectly measurable energy transmission towards the patient.
-Extremely easy operation via clearly visible touch screen.
The energy is set and displayed in mega
joules (mJ). This measurement informs the therapist of the precise amount of energy that is transmitted into the tissues.
How does Shockwave work?
Extracorporeal Shockwave Therapy (ESWT) is a regenerative treatment for tendons, muscles and bone disorders. Shockwave will provide high frequency sound waves which guide the body to reproduce its own regenerative response in cases of chronic tendon conditions.


What will Shockwave do?
FOR Phyciostherapy
:
Shock wave therapy system is widely used for physiotherapy and pain relief. Mechanical stimulation is capable of triggering reactive systems of human-beings in cellular structure, tissue reactions and metabolic effects include:
• increased metabolism
• altered cell membrane permeability
• improvement of cellular structure
• Improvement of tensile stability
• increased cell activity by gene expression
• expression of growth and pain mediator hormone
What can Shockwave treat?
Plantar Fasciitis
Shoulder Calcification
Rotator Cuff Tendonitis
Tennis Elbow (Radial Epicondylitis)
Golfers Elbow (Medial Epicondylitis)
Tendinosis of the Shoulder, Knee, Hip, Sacral Joints
Bursitis(Shoulders, Elbows, Hips, and Knees)
Patellar Tendonitis (Jumpers Knee)
Tibialis Anterior Syndrome
Bone Non-Unions
Achilles Tendonitis
Heel Spurs
Sports Injuries
Trigger Points (acute and chronic painful neck, back, shoulder and etc.)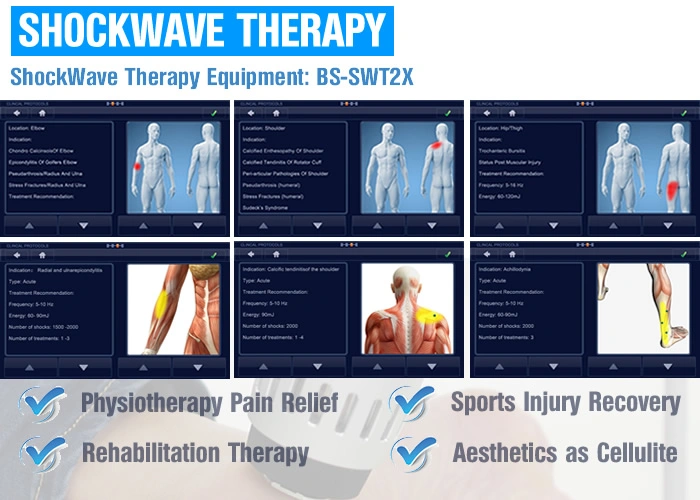 What are the major benefits from Shockwave Therapy?
Decrease in pain and will be able to weight bear without pain
NO surgical intervention
NO incision
NO risk of scaring
Does not require anesthesia
Over 80% successful outcomes