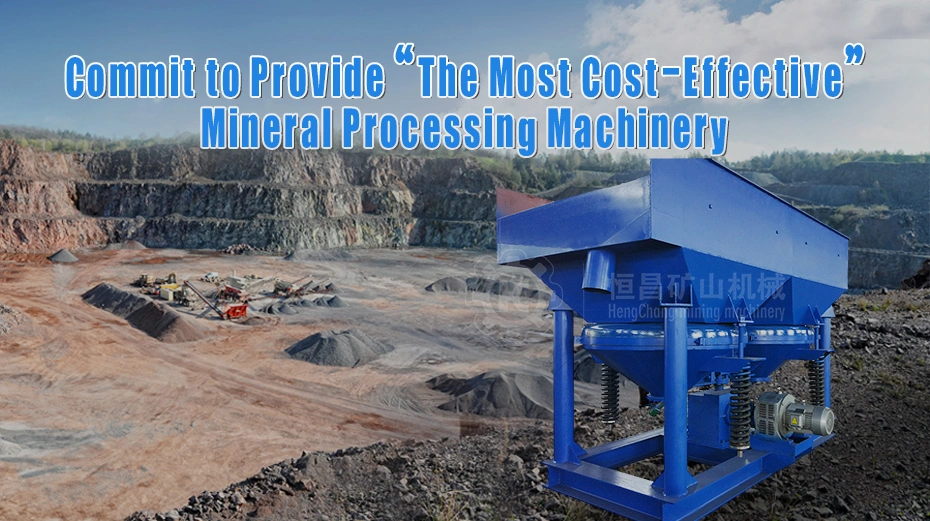 1.Introduction of Mineral Recovery Equipment
The
Mineral Recovery Equipment
is a simple gravity separation metallurgy machine as it's essentially an open tank filled with water with a slightly inclined screen at the top and provided with a spigot on the underside for drawing off the concentrate.
Rectangular gold jigs are made of either a single 1 jig-cell as stand-alone, or a series of cells organized in modules of two, three or four cells. The popular one is 2 cells.
In a multiple-cell jig design/setup, the rejected tailings from the front cell passes thru as feed to the following second cell compartment. Tailing from the second cell vessel is feed to the 3rd cell and on down the bank.
Ordinarily, roughing duty is done using three or four cell modules. The double or two-cell arrangement that is commonly called the duplex is ordinarily confined to secondary circuits and cleaning systems.
Mineral Recovery Equipment
belongs to gravity-based equipments, which can separate mineral based on different specific gravity. saw-tooth wave jig is mainly consist of tyhree parts: main frame, driving set and jigging chamber. Jigging machine is widely used in gravity concentration og gold, diamond, tin, barite, tungten, placer gold, hematite ore, manganese, titanium, antimony, lead, tantalum, niobium and other minerals.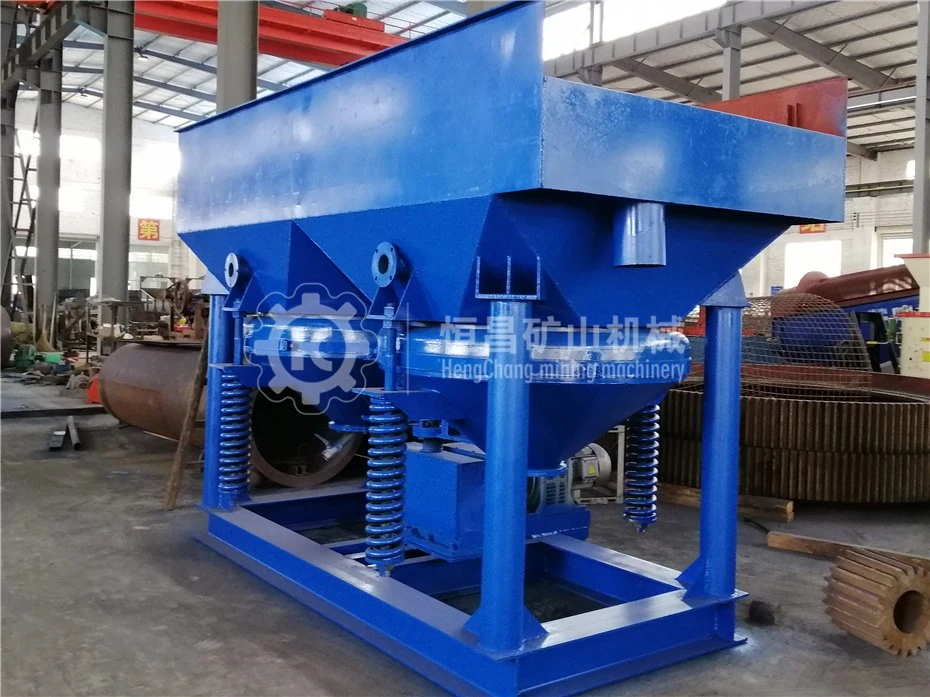 2.Details of
Mineral Recovery Equipment
The mineral bed is repeatedly moved up by the water, expands, and then re-settles. The resettlement occurring with the water flowing down at a lower rate.
The practical importance of jigging is that stratification occurs with the denser minerals at the bottom of the bed and the lighter minerals at the top .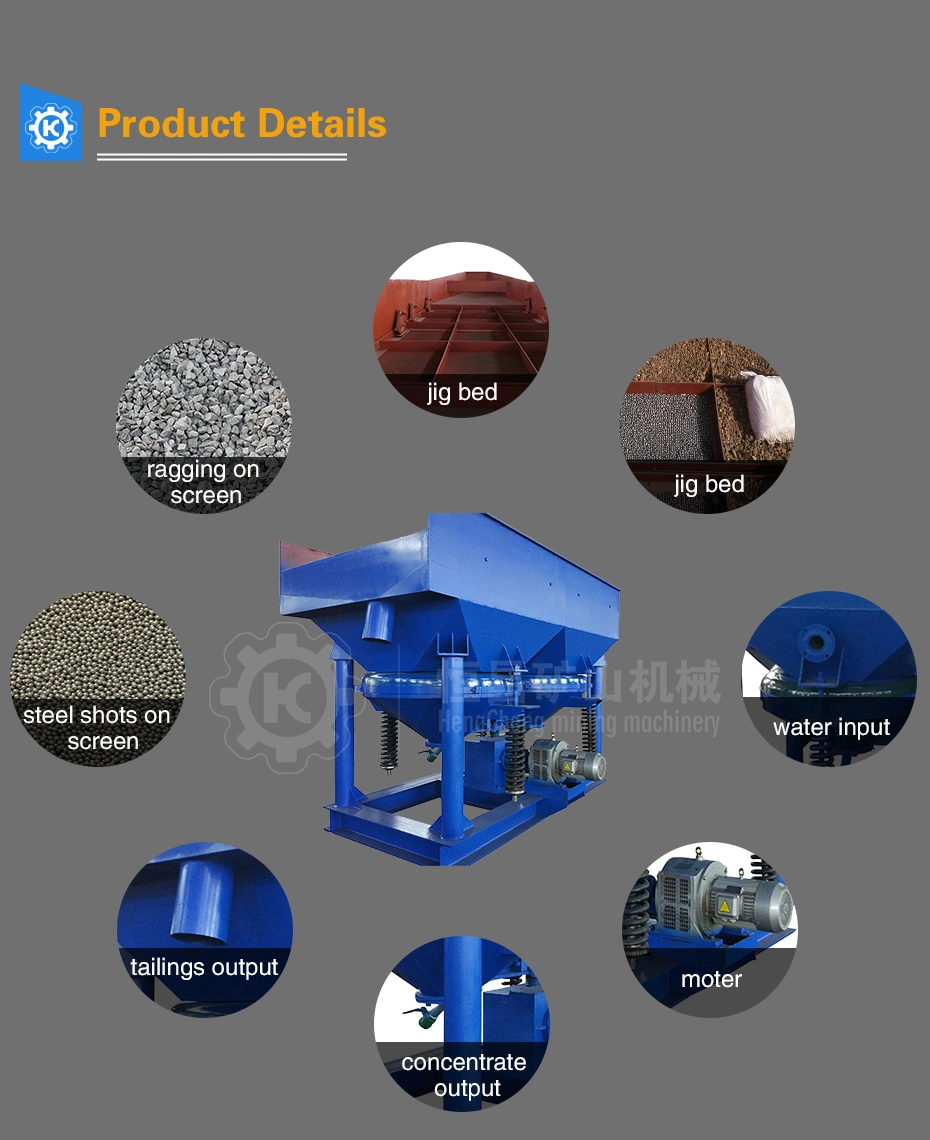 3. working principle and structure of Mineral Recovery Equipment
Mineral Recovery Equipment for cassiterite need water to work, and it loosens materials in vertical alternative water-flows, and it forms different layers of materials of different densities and discharges both layers from up and down discharging ports separately.
The basic composition of jigger is jigging chambers, also called jigging boxes, and there are screens in each chamber. Water and raw ore will be fed from one end of the jigger screen, the ore granules will move in the vertical alternative water-flows. Layers will be formed because of density difference of materials. The minerals with small density will be in the up layer and will flow together with the up pulp flow while material with bigger density will be in the down layer and will discharged from the down discharging port as jigging concentrate.
4. Parameter of
Mineral Recovery Equipment
Model

Jigging Area




(m²)

Feeding Size




(mm)

Water Added




(m³/t)

Water Pressure




(MPa)

Capacity




(t/h)

Power




(kw)

Dimension




(mm)

Weight




(kg)

JT0.57-1

0.57

<6

1-2

≥0.05

1-3

1.5

1550x780x1530

610

JT1-1

1.04

<10

2-3

≥0.05

2-4

2.2

2270x1110x1890

900

JT2-2

2.28

<10

2-4

≥0.05

4-8

3

3225x1550x2050

1640

JT3-1

3.3

<10

3-6

≥0.05

6-10

5.5

2745x2000x3030

3260

JT4-2

4.33

<25

4-8

≥0.05

10-15

7.5

4240x1990x2750

4200

JT4-2A

4.33

<25

4-8

≥0.05

10-15

4×2

4240x1990x2750

4200

JT5-2

4.86

<10

3-6

≥0.05

12-20

7.5

3600x2000x2600

4500
5. Successful Case of
Mineral Recovery Equipment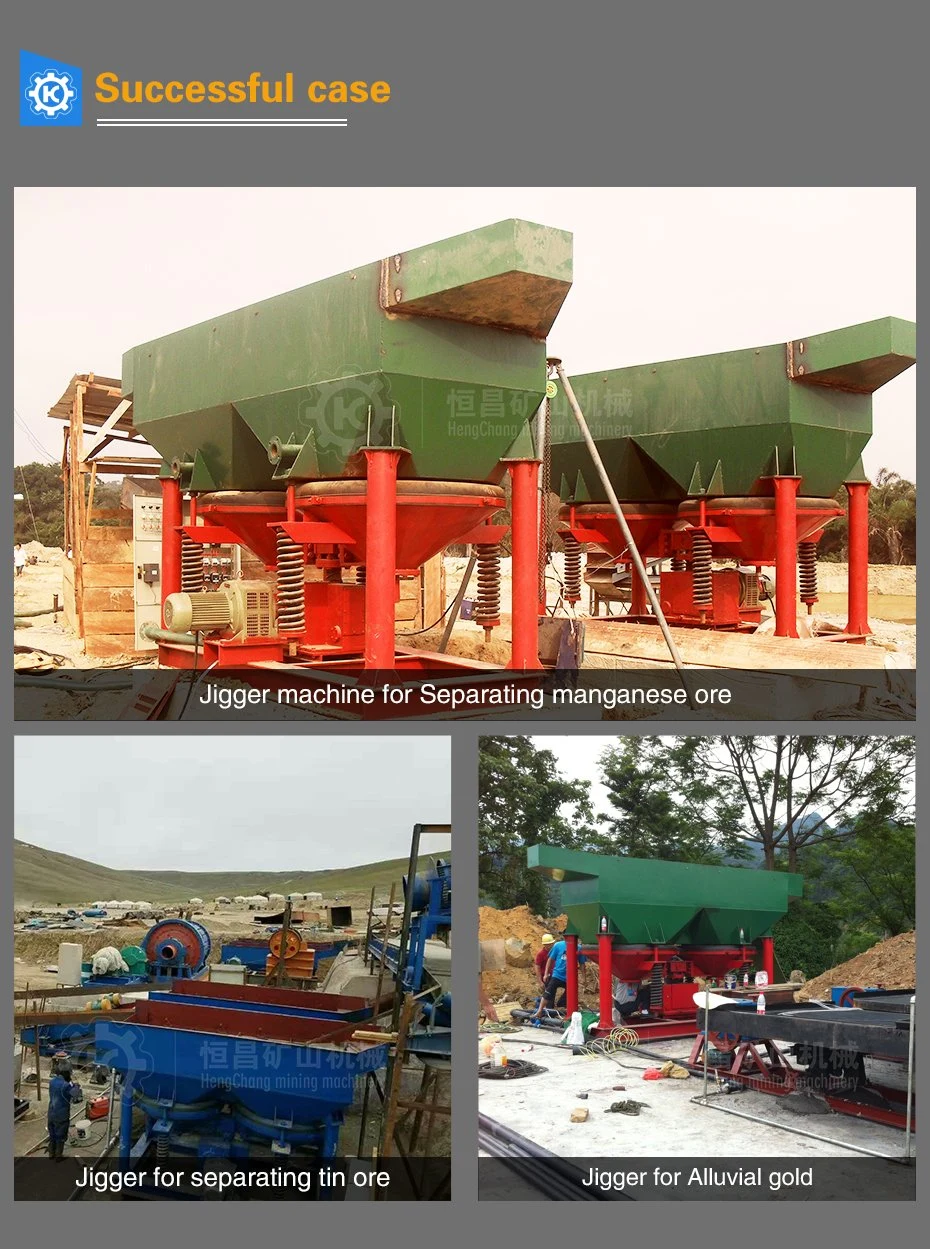 6. package and delivery of
Mineral Recovery Equipment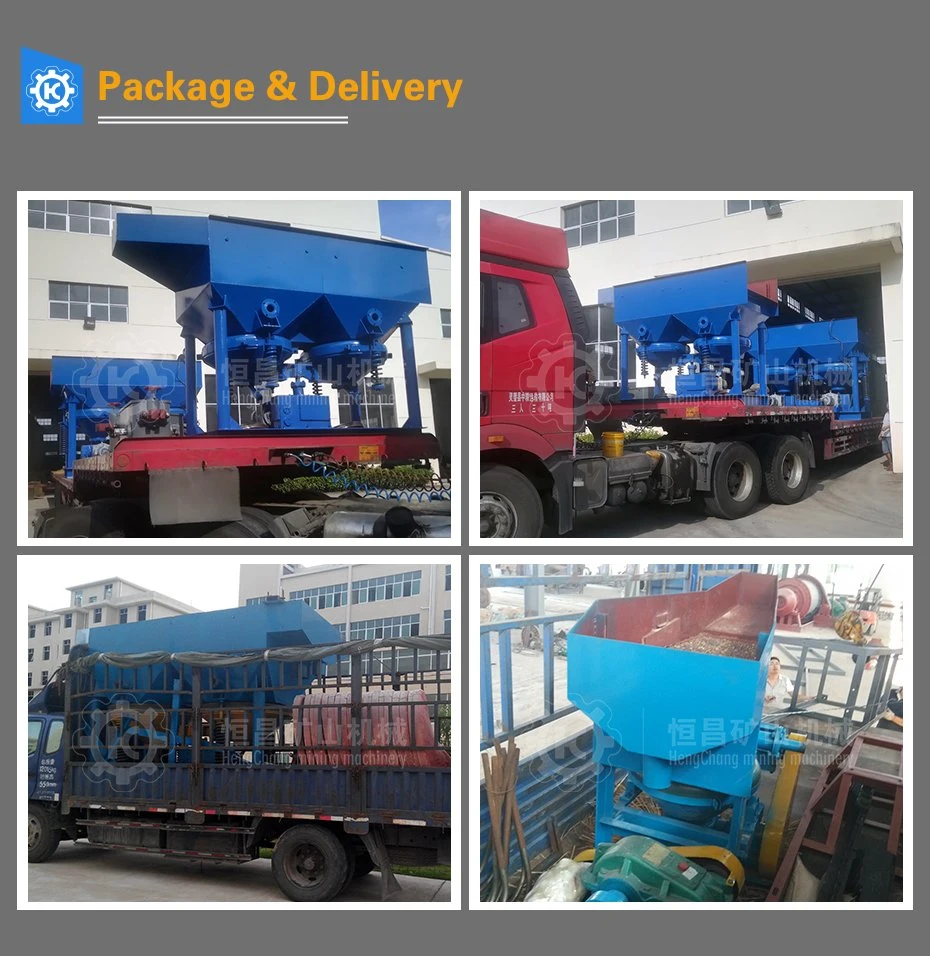 7. Related Product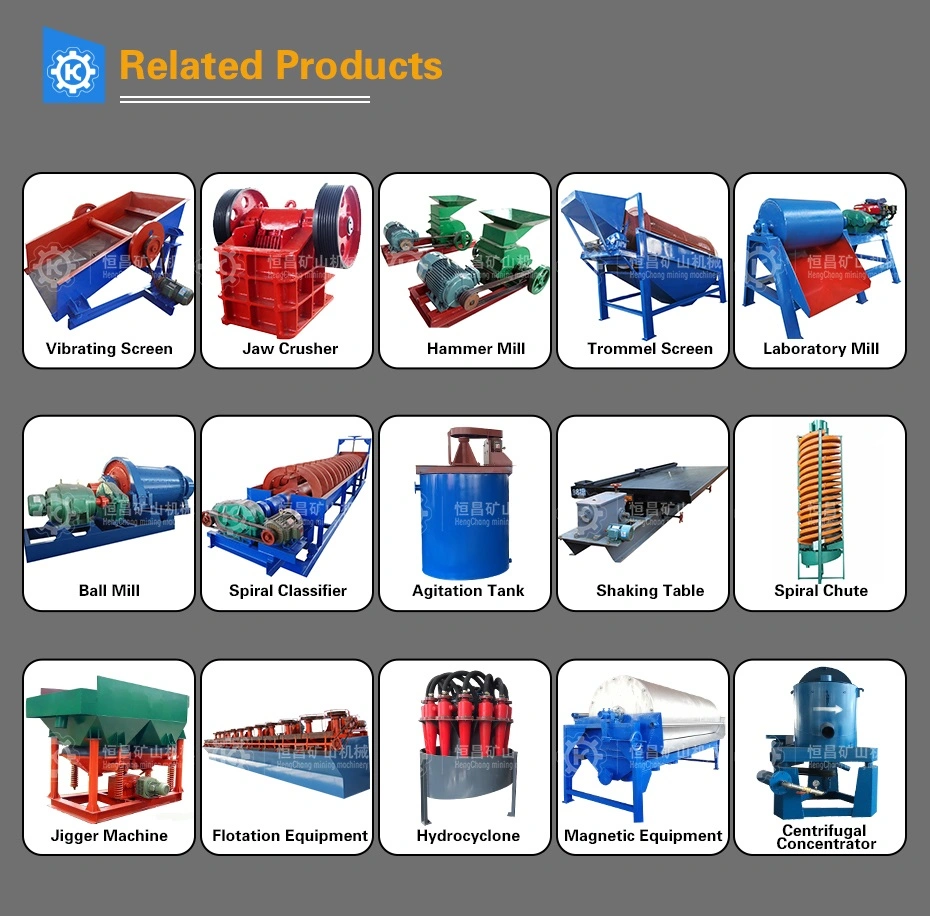 8.
Our service:
1.Pre-sale services:
(1)Select equipment model;
(2) Design and manufactLire products according to clients' special requirement;
(3)Train technical personnel for dients.

2.Services during the sale:
(1) Pre-check and accept products ahead of delivery;
(2)help clients to draft solving plans.

3. After-sale services:
(1) Assist dients to prepare for the first construction scheme;
(2)Install and debug the equipment;
(3) Train the first-line operators on site;
9. FAQ
1. How long has Hengchang been in business?
Our business has been in operation since 1995. For over 20 years we have served the mining industry offering gold/coltan/tin/tungsten mining equipment
2. How long is the warranty period ?
The warranty for the main machine is 12 month. we also supply spare parts to customer.
3. What is the Salary of engineer ?
100 USD Per day, the air ticket, accommodation, should be beared by customer.
4. Where is Hengchang factory located ?
how about the transportation ? The factory is located in Ganzhou city. The Airport is
Huangjin Airport, which can directly flight to Guangzhou, Shanghai, Shenzhen, Beijing.
5. What is the leading time ?
For shaking table and laboratory mining equipment ,we can send out within 10 days;
For large mining equipment and customized machine, the lead time is 30-40 days.
6. What is the nearest Sea port ?
Xiamen Port, Guangzhou Port, Shenzhen Port
7. What is the trade terms ?
CIF,FOB ect is acceptable.
8. What normal mining procedures including?
A. Sampling and analysis of the sample. take enough sample from different location and depth, analysis the size distribution and element.
B. Engineer and geologist site survey. based on the analysis report at stage one, the geologist will determine the reserve and mining area. the engineer will consider the plant location and process flow.
C. Separation test. take samples to do separation test based on the process flow on stage Two.
D. Based on the result of testing, adjust the process flow if necessary.
E. Determine the capacity of the plant based on the quotation of plant and estimated output.
F. Place order and equipment production.
G. Plant design. ground clearance and basement building according to the design.
H. Plant installation and testing production.
I. Training and debugging.
9. What Information should customers give to us ?
In order to let we provide you with efficient & suitable quotation and assistance.
1). What type is the mining? Is it rock stone? or it is sand?
2). If rock stone,What is the general particle size(mm) of the raw ore?
3). What is the handling capacity(tons per hour) you plan to work with?
4).What is the elements of the raw ore? How much percent % of each minerals?