Dry Ice Pelletizer Machine
Dry Ice Pelletizer Machine can make 3mm-19mm dry ice , production capacity from 50kg/h-1200kg/h.
Application: Cold chain transportation, Refrigeration storage, dry ice blasting machine, dry ice fog effect etc.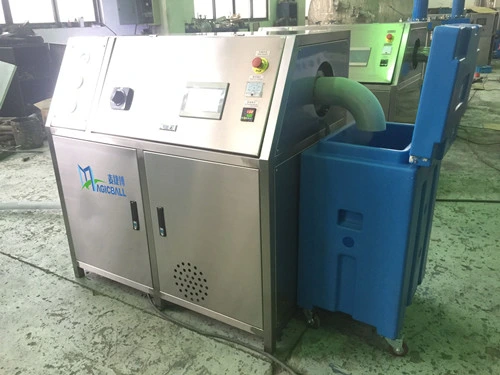 Model
YGBK-50-1
YGBK-100-1
YGBK-200-1
YGBK-300-1
YGBK-200-2
YGBK-300-2
YGBK-300-4

Motor power(kw)

3.7

5.5

11

15

15

18.5

37

Dry ice size(mm)

3mm-16mm

3mm-16mm

3mm-19mm

3mm-19mm

3mm-19mm

3mm-19mm

3mm-19mm

Output(kg/h)

50-60

100-120

180-200

270-300

360-400

450-540k

900-1080

Raw materials(t/m³)

≥

1.50

≥

1.50

≥

1.50

≥

1.50

≥

1.50

≥

1.50

≥

1.50

CO2 transformation rate

≥

38%

≥

38%

≥

42%

≥

42%

≥

42%

≥

42%

≥

42%

Liquid inlet pressure(Mpa)

≤

2.1

≤

2.1

≤

2.1

≤

2.1

≤

2.1

≤

2.1

≤

2.1

Liquid inlet diameter(mm)

DN10

DN10

DN20

DN20

DN20

DN20

2-DN20

Exhaust pipe diameter(mm)

DN50

DN50

DN70

DN70

2-DN70

2-DN70

4-DN70

Fuel tankage(L)

90

200

280

280

280

300

600

Over dimension(cm)

160*80*130

160*140*170

270*110*180

270*150*180

175*140*175

215*140*175

215*270*175

Weight(kg)

600

750

1300

1700

2200

2450

4800
Company Information
Magicball Technology (Wuxi) Co., Ltd. was established in 2003 in Wuxi.(Next to Shanghai)
Magicball Technology is engaged as manufacturer and supplier of dry ice block machine, dry ice pelletizer

machine, dry ice blasting machine and dry ice storage container.
We have passed CE certificate and SGS certificate . Have do business with the famous gas companies such as

Messer, Linder and Praxair....and get more good feedback.
Warmly welcome to visit our factory and do business with you!

Magicball Introduction: https://youtu.be/ZjDlwpiuQB0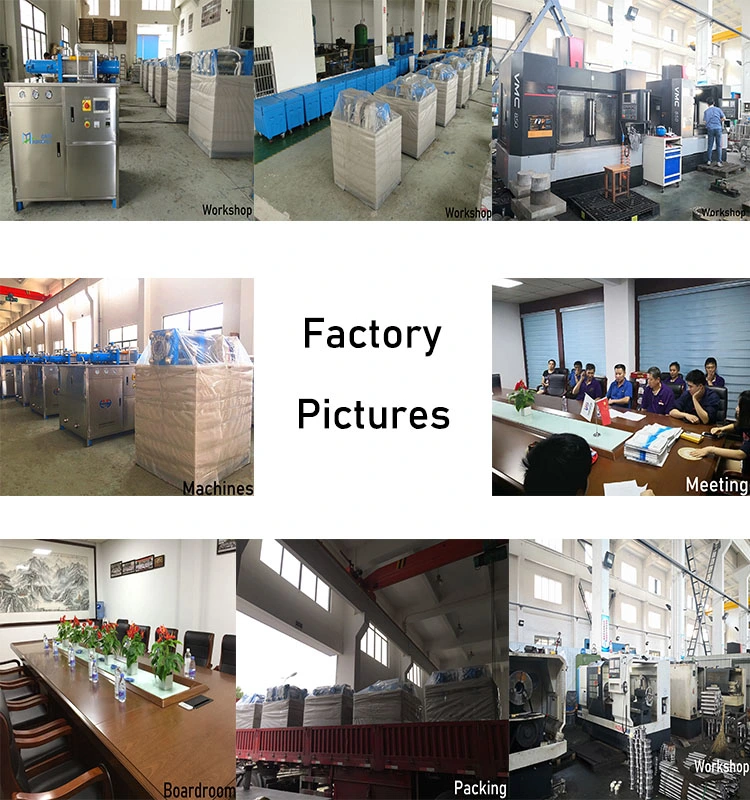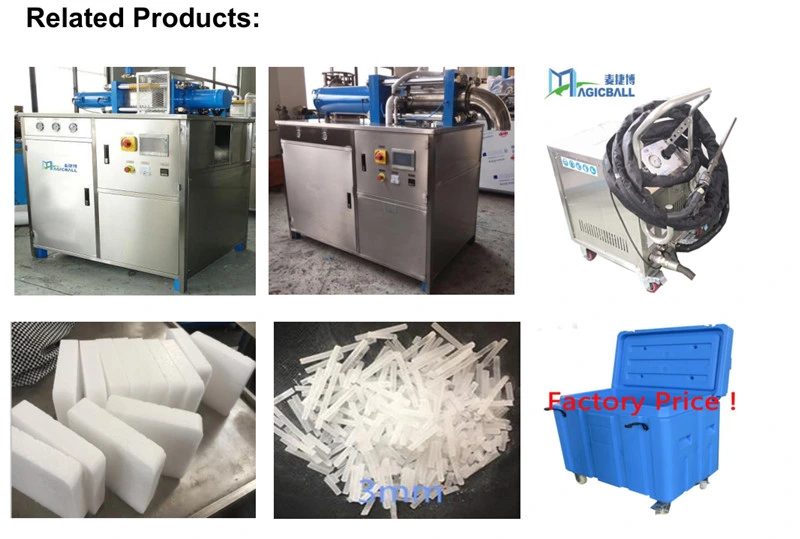 Company Honor
Magicball is the TOP3 manufacturer in China.
Magicball has led China market for 15 consecutive years as the largest dry ice make manufacturer.
Magicball have exported to 25 countries and regions.
Magicball have occupied 80% of domestic market in China.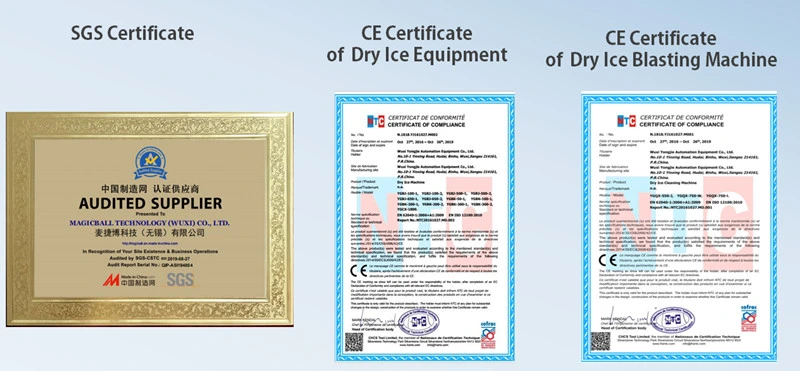 Packaging & Shipping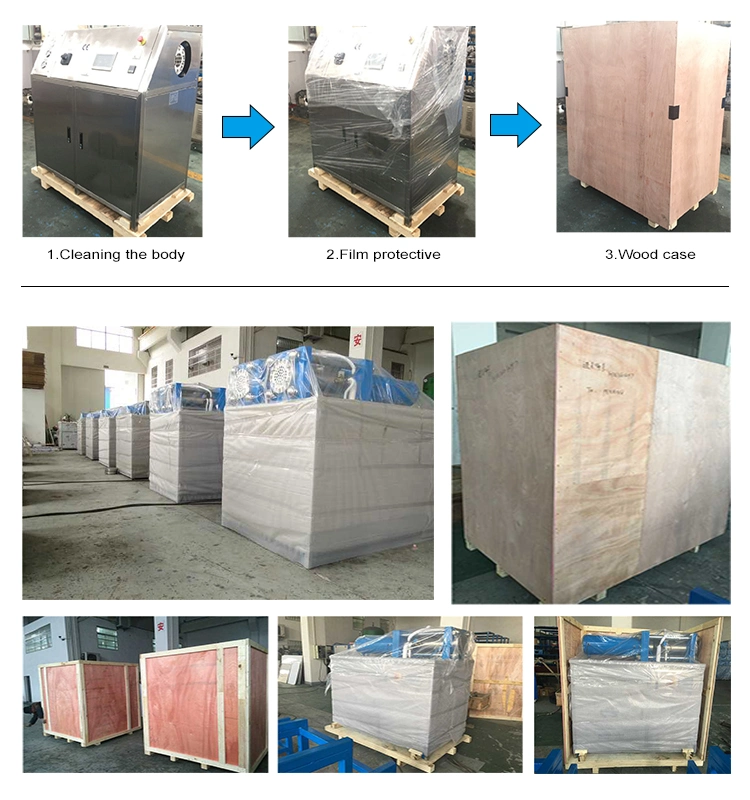 Related Products
Dry Ice Block Machine
The Magicball Dry Ice Block Machine can make 3-30kg dry ice, production capacity from 120kg/h-1300kg/h.
Application: Cold chain transportation, Refrigeration storage, dry ice blasting machine etc.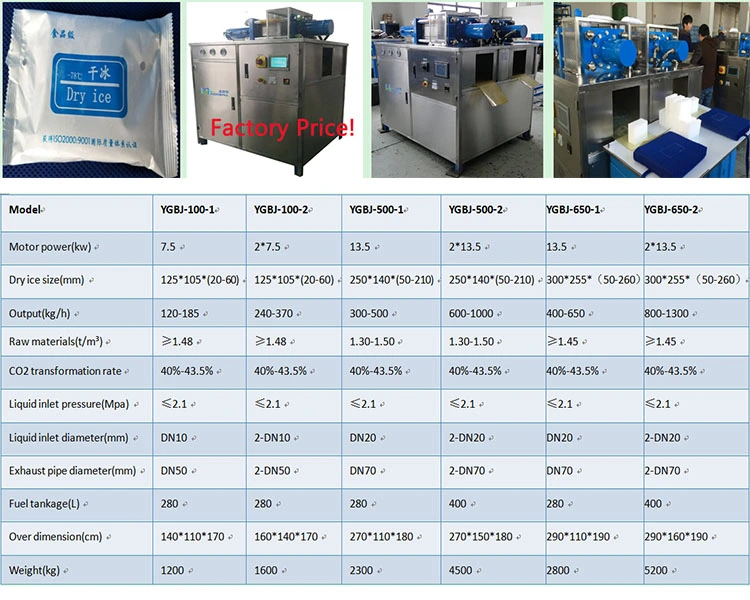 Dry Ice Blasting Machine
This new development is quickly expanding around the world. One system uses small rice size pellets of dry ice shooting them out of a jet nozzle with compressed air. It works some what like sandblasting or high-pressure water or steam blasting, with superior results. The frigid temperature of the dry ice -78

ºC.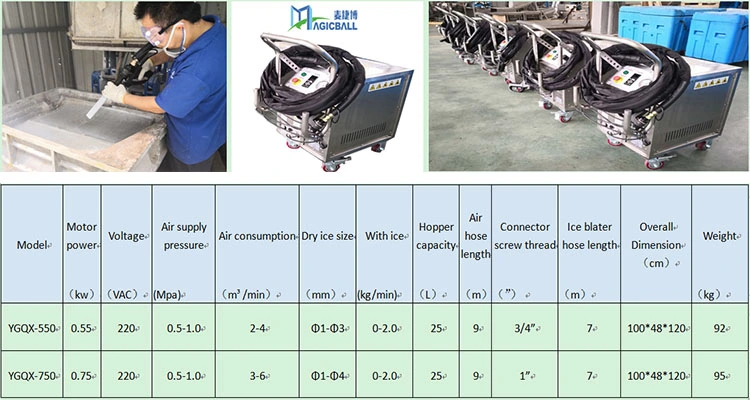 Dry Ice Container
The Magicball Dry Ice Container material adopt imported low temperature resistant plastic,greatly
improved the insulation , abrasive resistance, impact resistance etc performance. Dry ice Box canstore 60kg-320kg dry ice .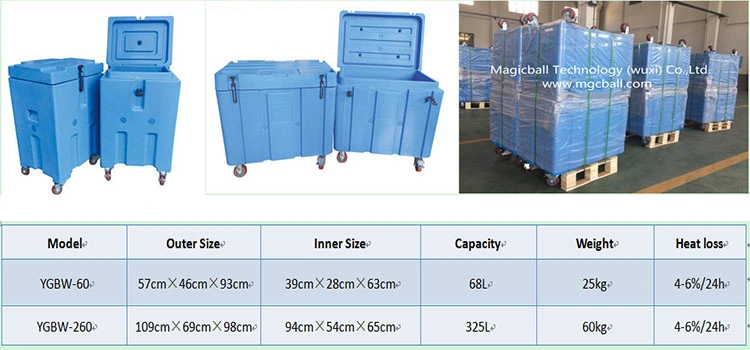 Frequently Asked Questions (FAQ)
1. Can I band my logo?

Yes, we can do the logo with sticker, printing.

2. What's your delivery time?

Dry ice equipment is about 35-40 days after the payment confirmed.


3. After I buy the machine, what will you do if I don't know some of the function?

Step 1 We will provide relevant technical instructions.

Step 2 We will provide the operation video of the corresponding machine, which is convenient for

operation.

Step 3 We can also provide on-site assistance to install operational services.


4. What can I do if the machine troubled after I buy it?

Step 1 Please tell me about the situation, and provide pictures and videos----our technical

will reply immediately. Vulnerable material, free of charge during the term of the

contract.

Step 2 If it can't be solved, we will send technicians to guide and repair.


5. What's the terms of payment ?

We accept T/T, 50% Deposit and 50% balance paid before delivery.


6. What guarantee do you provide? Warranty?

Magicball equipment have passed CE Certificate and SGS Certificate. So we can assure you

our equipment with high quality.

In order to ensure the operation of the machine, some of our parts are imported from other

countries:

Hydraulic system--Taiwan Brand

PLC--OMRON Brand

Intermediate relays--OMRON Brand

Solenoid valve--Danfoss Brand

......

We also have do more business with global gas groups. Such as MESSER. LINDE.

PRAXAIR......and got more good feedback.

Our warranty is 12 month and 24-hour service system. We have 15 years experience in dry

ice field. So quality is our soul.


7. What is your minimum order quantity?

MOQ: Dry Ice Machine 1Set. Dry Ice Blasting Machine 1 Set. Dry Ice Container 8 PCS
Cusmtomers' Feedback
We don't want to say how good we are by ourselves. But here we would like to share you the

feedback from customer clients.
We win customers' trust and support by our high quality and best service.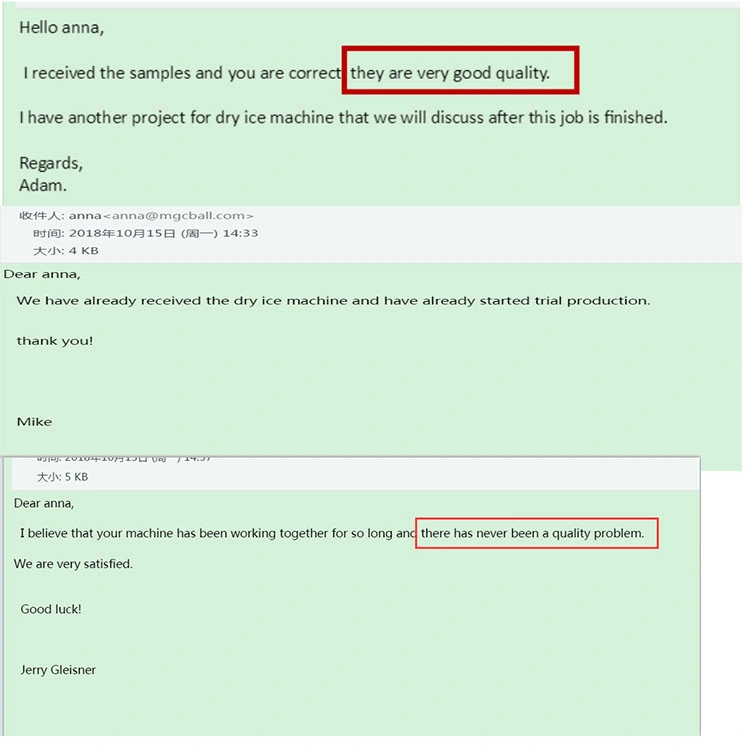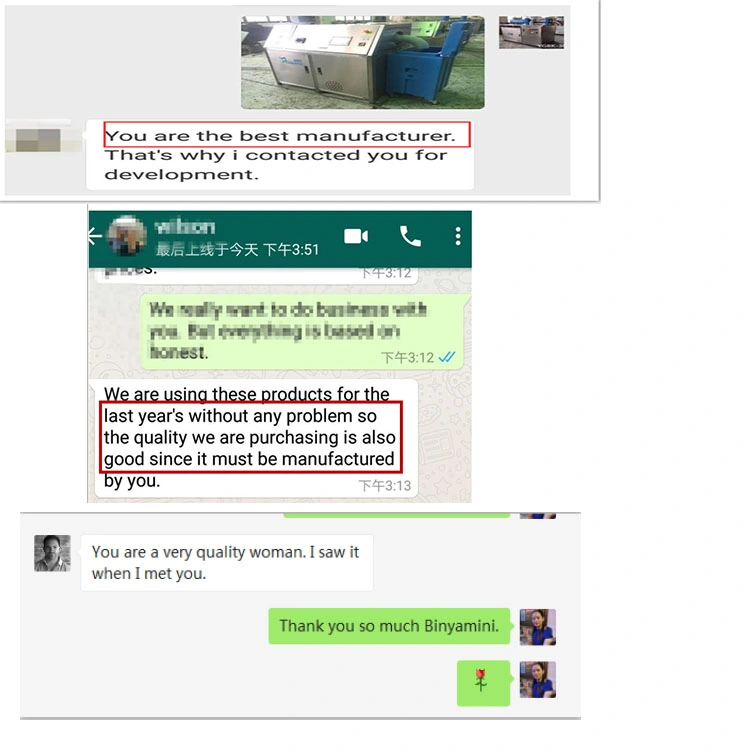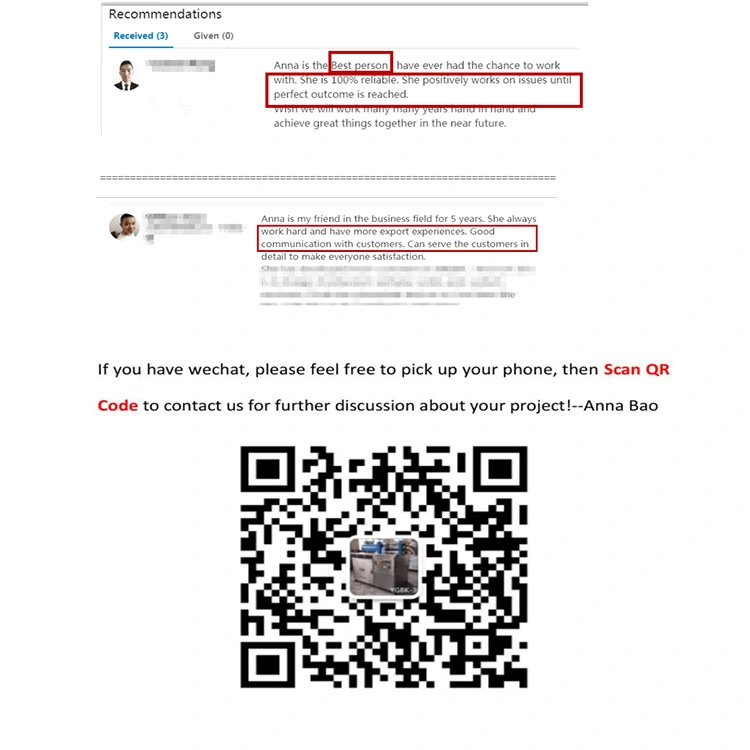 More Dry Ice Machines and Details Please Contact:

Ms Anna Bao
Mob: 008618021173087